Tell a Friend:
Repost this message on your blogs, pass it around your e-mails, and copy it to as many forums you can think of, thanks.

Brothehood need your help to make this successful:
A few years ago we did an Internet assault on previous Mayor James K. Hahn, it was very successful. Today we are now doing it to Mayor Antonio R. Villaraigosa. On Tuesday 9-17-08 we went to the neighborhood that was mostly affected by street racing. We ask them if they were tired of living in front of a drag strip? We told them every time they call the cops on us, why not call the mayor's office and tell him what they think, they can leave a message after hours. We told them their is a solution that has work in previous times and is not being used today. We left them a flyer with all the direct numbers to city hall. Well it worked, they called in and the mayors office responded by scheduling a meeting with Big Willie to discuss the tracks location. We are not done, we need everyone reading this to e-mail the Mayor and let him know people all over the Internet are watching what he is doing on resolving this problem. Please no threats or thrash talk as one of our members found out, it is takin seriously, you are talking to a public official. Thanks to everyone in advance. You can post a copy of your e-mail here if you want for all to see, thanks again for your support.

Here let me be the first to e-mail the mayor:

Brotherhood Raceway
Message ethelkilledfred to mayor -
Details
From: ethelkilledfred
re: Brotherhood Raceway
To: mayor@lacity.org
Date: Sun, 21 Sep 2008 12:30 pm
Message:
Hello Mayor Antonio R. Villaraigosa,

I am very interested in seeing the street race problem in Los Angeles resolved. I know of one program that has worked many times in resolving this issue. Why is it taking so long to implement this program? When can we see results from this program. Fast and the Furious 4 is coming out next year and this has me worried on how many lives are going to be lost from people imitating the movie. Why not give them a place to do it away from public streets. Thank you in advance on this matter, sincerely a concerned citizen,

Fabian


Write the Mayor;
You can email the Mayor's office by writing to mayor@lacity.org and a constituent services representative will respond to your inquiry.

For any questions related to services and programs offered by the City of Los Angeles, you can call 3-1-1 .

from- http://www.lacity.org/

e-mail= mayor@lacity.org
Phone:
3-1-1 or
213-978-0600 ask for the mayor until you get his office and leave him a message, he will get the message
213-978-1587 ask for Shawn
213-978-0736 ask for David
Don't be shy call more than once and ask what are they doing to open Brotherhood Raceway and why it is taking so long to open.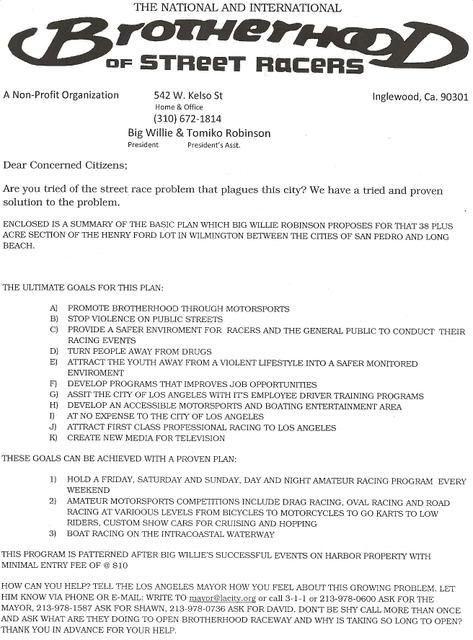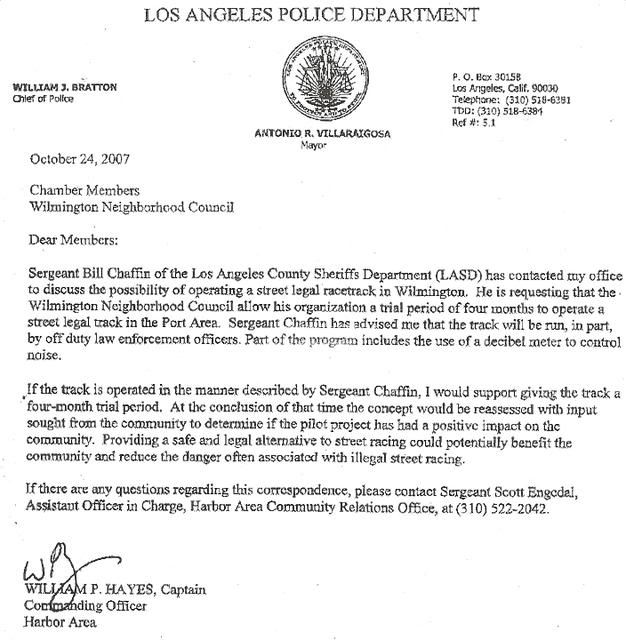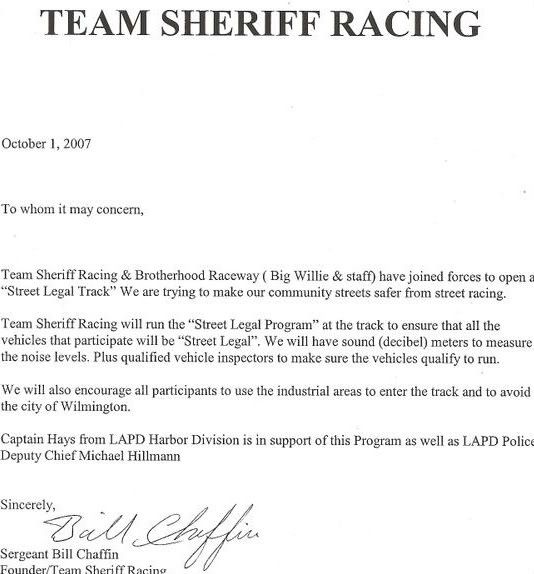 ---
Brotherhood of Street Racers

Post Extras: